Parchment scrolls,
parchment wedding invitations scrolls,
wax seals, tubes, envelopes...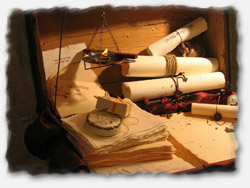 Parchment paper scrolls
Our main product is parchment paper. This entirely natural type of paper with its appearance like fabric, has been known and used in different parts of the world for about 2000 years. Every single paper scroll carries the unmistakable stamp of craft, as it is formulated individually by the use of a sieve and a special suspension made from plant fibres. To get the job done and to let it please the eye, one does not only need to have the necessary know-how, but also has to put into it a great deal of conscientious- ness and thorough workmanship. In other words, the quality of the product seems to depend on both a good recipe and the amount of heart one puts into the job.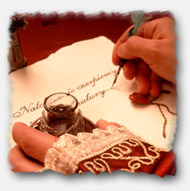 Parchment wedding invitation scrolls,
wax seals, tubes,
parchment stationery...
HORIZON TEAM LTD as a firm consists of a few sections including the production section (the hand-made paper workshop), the printing section dealing with all sorts of invitations (wedding invitations, the holy communion invitations, parties held on various occasions etc.) and other kinds of prints, old fashioned books, certificates, diplomas, calendars.

SEE PHOTOS &nbsp
Pinterest
CLICK HERE FOR HISTORY OF PAPERMAKING
---